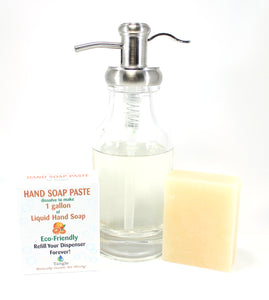 Hand Soap Paste--Makes One Gallon!
Refill your existing liquid hand soap containers with this gentle hand soap paste that dissolves in about an hour. Eliminate the waste of all of those plastic soap bottles! Works best in foam pumpers.
Ingredients:  Coconut oil, Olive oil pomace, jojoba oil, almond oil, vegetable glycerin, aloe vera, rosemary oleoresin, and a blend of wild orange, palmarosa and pink grapefruit essential oils.