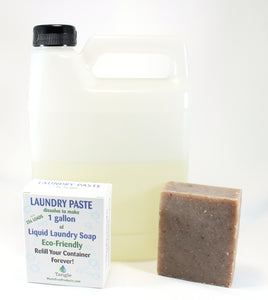 Laundry Detergent Paste--Makes One Gallon!
Refill one plastic laundry detergent container forever! Make the switch to zero-waste laundry detergent smoother by simply dissolving this powerful little paste cube overnight in the plastic jug that you already have. One bar makes one gallon of laundry detergent and washed up to 256 loads of laundry. Or, cut it into smaller pieces to make exactly as much as you need. Reuse that plastic container indefinitely! Contains no pollutants for a clean, environmentally-friendly solution that really works!
Ingredients:  Coconut oil, soap nuts liquid, yucca powder (washing), baking soda (freshening), oxalic acid (stain lifting and whitening), salt (softening), and rosemary oleoresin.
Greywater, septic, and HE safe, fragrance free, and formulated for sensitive skin.